To all our readers, we at Renowned wish you all a Safe and Prosperous New Year!
With each new year, comes a time for reflection and goal setting. Reflection for us is the constant warnings that this industry niche of master craftsmen/custom made, fine furniture pieces is on notice. On notice to keep sharp, remain vigilant and mind your business!
Every year, we are contacted by liquidators, business owners and industry groups to see if we'd be interested in buying a pile of second-hand equipment that suits our business due to 'xyz furniture makers' or  'abc furniture restorers' going out of business – some voluntarily and some being wound up.
So, needless to say, we keep getting these reminders to do the following: Get back to the basics: Look after your staff, "cashflow is king".
I've always liked that saying but I feel like it lacks follow up so my interpretations as follows: profit is queen and good will is princess and prince, duchess and duke, marchioness and marquees, countess and earl, viscountess and viscount and the baroness and baron!
In the past 3 years, Renowned has worked very hard to increase sales, and we have done so to the tune of 60% growth, then 40% and this financial year, we're on track to achieve a further 30% growth.
Sounds like a lot, but to put it into perspective, when I purchased this business back in 2012, it was turning over a mere $200K and profit margins were all but non-existent! So really, the business survived on love, love of creating fine pieces, love of running one's own business and love of interacting with great/like-minded people.
Hopefully, we have managed to keep a little love alive since our take-over (we certainly get that vibe from a lot of our clients once they take delivery of their completed pieces and our suppliers).
But just as importantly is that this business is now paying its staff some of the highest craftsmen wages in Brisbane, providing them with the best possible working conditions and paying its directors (myself & my wife) a reasonable fee along with benefits for our efforts so our goals are almost met!
We still have a way to go. Margins could be better (always!) and we do lose jobs purely on price from time to time (sometimes you have to simply say: "we can't afford to do that job").
So we work towards better flow in the workshop: Time in motion studies, cleaner working conditions: Helps with WHS, motivation & quality and better admin systems: Document every phase of the process, keep all the staff trained so that multi-tasking comes naturally and so that the business can function without you! (the directors!).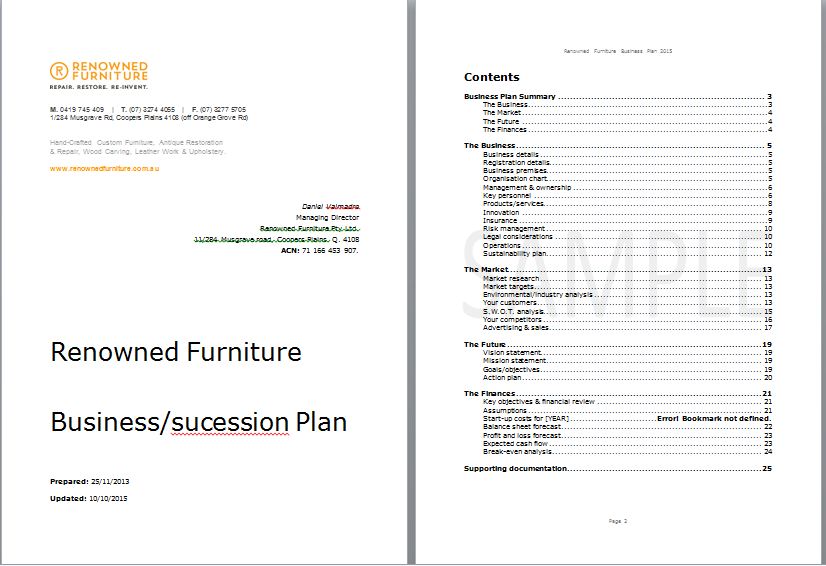 Keeping a business plan up to date and alive as well as a succession plan to follow is also extremely important when you are headed towards the goals ones sets!!
2017 is the year of automation for us. Automate the parts ordering, client forms, job forms, quality control & scheduling. A 60 page "Renowned furniture instruction manual" is almost completed and it becomes a very powerful and very valuable document when anyone on the staff can pick it up, follow certain sections and execute a job from initial call/email enquiry, all the way through material ordering, set out, build to delivery & invoicing.
For me, it's been an interesting journey – from developing a highly successful business in mining & engineering spanning 25 years, then selling it as a going concern to this, my passion. Something with texture and feeling but clearly, I still need to keep my business head on at times…