Kevin has been a client for the past 18 months to two years. He had been slowly having a house full of inherited furniture restored to its former glory, and in some cases, to a level better than the original. (Old silky oak pieces made back in the 1930's to 1950's were often stained very dark almost as if they were trying to hide the beautiful grain character and style.)
These days the art of showing off the grain character (especially if the timber has been "Quarter cut") is the best method for a truly ageless finish and style that goes with just about anything.
The definition of quarter sawn is best depicted by this diagram: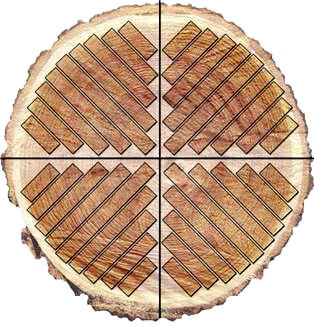 It's a way of getting the most grain character out of a piece of timber, and silky oak is one timber that can truly shine with a finish when the timber has been quarter cut from the log.
Anyway, back to the story!
We've restored several tables, chairs and dressers, etc. for this good folk and this set of 5 chairs would appear to be nearing the end of a beautiful relationship!
Kevin brought all 5 chairs to us in a terrible state of disrepair. Old vinyl eaten away, legs off, timber dark, and so on. After we quoted, there was a long silence followed by:
"Please just do the best four and we'll get the fifth chair done later in the year when we can afford it."
Well, our guys are hopeless romantics and it seems that the fifth chair just sailed through the same process so that the boys did not have to "leave a chair behind." We agreed to provide the restoration of the fifth chair as a goodwill gesture to our client to acknowledge the great support and good custom we've enjoyed over the past couple of years.
Even the grandchildren forked out heaps of dollars getting their own respective, inherited pieces done up to their former glory, so we can see the dedication and the fine taste that all these guys have for old furniture.
https://renownedfurniture.com.au/wp-content/uploads/2014/12/logo1.png
0
0
The Renowned Team
https://renownedfurniture.com.au/wp-content/uploads/2014/12/logo1.png
The Renowned Team
2017-06-01 10:28:12
2017-06-01 10:29:36
"We Never Leave a Chair Behind."