Update: November 4, 2015
Kerryn's silky oak hallstand is now complete and ready for delivery!
Here's the unit from another angle.
---
Update: November 2, 2015
Remember the hall stand that Kerryn inherited from her grandma? We told her that one of the guys figured it would be better to get straight into it to save on storage room!! This is only just a start so still heaps to go but you can already see the raw silky oak looking lovely. Will keep you posted, it's going to be put aside for a bit now. Watch this space!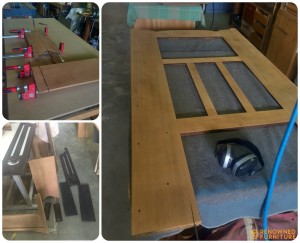 ---
October 26, 2015
Kerryn was recommended to us by another happy customer and she's come to us with a treasured possession she inherited from her grandmother. Solid silky oak, bevelled mirror, copper coated cloak hooks and steel umbrella trays. WTS!
The nicest part of this story is that Kerryn is between 20 & 30 years of age so, watch out for rising prices of old furniture over the next few years because we're seeing more and more gen-y/gen-X folk finally realising the real value of these pieces and restoring them their way. Sometimes it's a classic chair with a contemporary upholstery or a flash of colour but the 'bones' are 100 years old. I love it.
We will be updating you on the progress of this beautiful old furniture, so watch out!