Michael found us via the web through our posts and blogs. He saw Jim's Tallboy work and decided Renowned were the right guys to do the very delicate restoration of his grandmother's antique mahogany desk for his mum's 50th birthday surprise. Every mum deserves a son like Michael. Along with his siblings, they are all pitching in to cover the cost of the restoration. Here's a couple of before pictures & during pictures now stripped ready for polishing.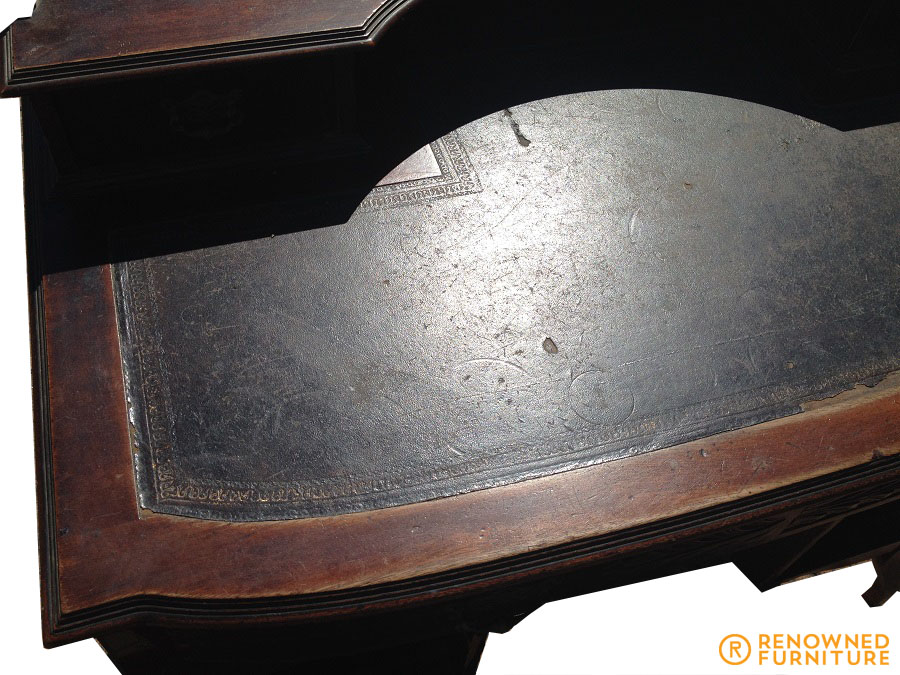 "Watch this space"! We're still hunting high and low for replacement handles, locks etc…
ALMOST DONE

Well, Michael's mum's desk is almost complete (still awaiting 2 new door lock surrounds from England) and we could not wait to get her launched onto our media sites. Solid mahogany, new burgundy leather with gold gilding and black pressed scroll patterns applied.

All the brass has been repolished and all the workings such as hinges, drawer runners etc have been re-machined re-waxed and it is functioning I suspect better than it has ever functioned before. We have sent this picture to Michael, and he is very impressed.
FINALLY COMPLETE
And here, the final touch was to fit the door locks and pedestals.
Also, when Michael came to collect it he said: "Wow, it looks so much better in the flesh rather than the update pictures that you had been sending me"
We then said: "Well we hope your mum is as blown away as you are" Michael then said: "Oh! I actually can't wait to show the rest of my siblings first to see their reaction!, we're all outing in for this for mum for her 50th"