A lot of projects go through our workshop each year & there are times they're just a blur to our master craftsmen.
We appreciate that our customers feel an amount of sentimentality, even love, for their furniture that's why they come to us to bring them back to life instead of simply trading the old with the new.
No matter how many chairs, tables and other pieces of furniture come our way, we remember them all – some more than others. We remember their specific story, the challenges that went with completing each piece, and the little notes of thanks we get from their owners.
So, here are some projects that made a mark with us, here at Renowned:
This project was part restoration, part rebuilding – 6 dining chairs. All 6 were restored, but 2 had broken back rests, so we hand crafted and replaced them.
These chairs have some of the most amazing grain character we have ever seen. The owners were debating whether to just buy new ones, but since the chairs have been in the family for so long, sentimentality won!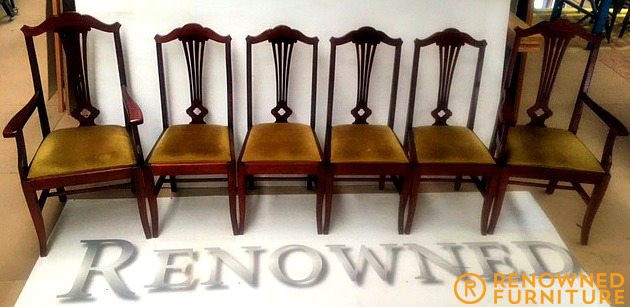 "We don't see pieces like this often." was what we first thought when this dining table was rolled in. It's a fine example of mid-century craftsmanship and design and our Captain's Choice Award.
With each restoration job we do, a feeling of newness and fond memories resurface – this is why we make sure we can say each piece of furniture we work on is "a job well done" – and we remember.