Project Title: Seventh Day Adventist Church
Project Type: Furniture supply
Project Description: To design and build all of the furniture for a Southeast Queensland church within budget and acceptable timeframe to coincide with the churches plans. All of the furniture will be made using White Oak
Start Date: August 11, 2014
---
Latest Update – November 27, 2014
The Seventh Day Adventist church is nearing completion for us. We have had a very interesting ride with this job. Keeping the mix of local and offshore manufacture, maintaining quality (bringing the offshore pieces up to our standard after their arrival prior to delivery) and ensuring client satisfaction remains at 100%.
The pieces are all coming together nicely and the fact that our guys have had to rectify some defects and repair some transit damage to the offshore pieces just further bolsters our faith in the project as a whole and the way we successfully blended the two sources, "A match made in heaven" 🙂
Before we sign off on the project (worth more than $240,000.00), we will conduct final quality checks and then put our name to it.
Renowned is a specialised company so managing projects of this size is a bit of a step up for us. Our managing director was previously in the mining industry (running a company he founded that was turning over several millions of dollars per annum) where managing projects 10 times this size was commonplace so the business side was well covered.
Our craftsmen have seen another side to their own industry first hand and while the early stages of this project saw a little in trepidation from their perspective, we feel that it has been an extremely positive learning experience where we now have master craftsmen thinking globally.
---
Update – September 22, 2014
The next phase is to complete assembly and start sealing & polishing. The pulpit is completed and awaiting its final coat of 2 pack polish,
The 6 priest's chairs have been completed with 3 in final sanding and 3 in final polishing.
---

COMPLETE PIECES
As of September 17, 2014
Here's the altar table completed. The SDA logo has been carved into the top of the table, then filled with a 2 pack clear resin (it's about 3 to 5 mm deep) to give it that 3 dimensional look and then 2 pack clear isolac topcoat for long lasting durability. The solid oak table is designed to match the pulpit and the altar chairs.
---
ASSEMBLY
August 27, 2014
 Here, you'll see the 6 majestic priest altar chairs being finally assembled, the white oak altar table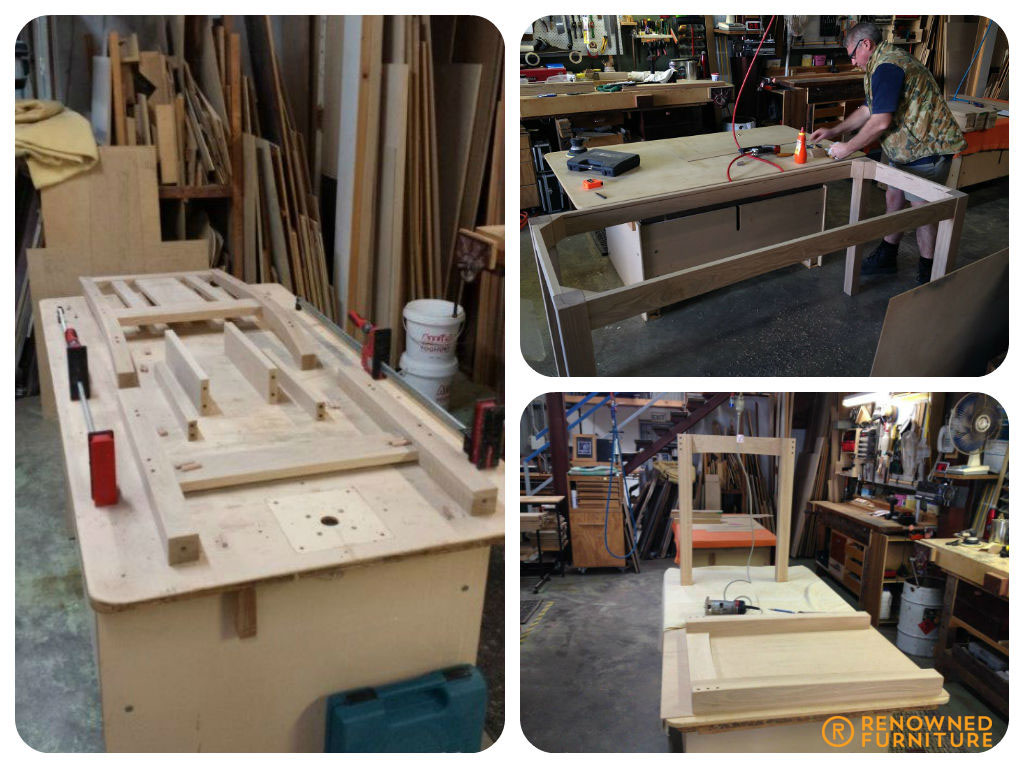 and the pulpit.
Again, there is the Seventh Day Adventist logo carved into each piece as well.
---
August 11, 2014
It was announced today that Renowned Furniture won the bid to design and build all of the furniture for a southeast Queensland church.
The director, Dan Valmadre, said that the team were over the moon and had worked very hard to provide the right solution for the church within budget and in an acceptable timeframe to coincide with the churches plans. All of the furniture will be made using White Oak or depending on who you speak to, American oak. "We like to think we're in "white oak heaven" at present ", Valmadre said. "As it has given the company some real street credibility on a number of fronts. Most importantly, the proof that quarter million dollar projects are well within our scope of capabilities. ", he added.
"It's simple really, you just start at the beginning and follow a quality management system for both "Just in time" procurement and "In process" quality control and the rest just sorts itself out as a result of good training & management.", Valmadre said. "We've started on the procurement and at present we're building the altar furniture comprising of 6 priests' chairs, an alter table and a pulpit."
Renowned have also provided additional features such as the Adventist logo (comprising of an open bible with a cross and the 2 flames or angles arising pictured below) to be carved into all the furniture for that special touch. We'll keep updates on the construction coming if anyone's interested.